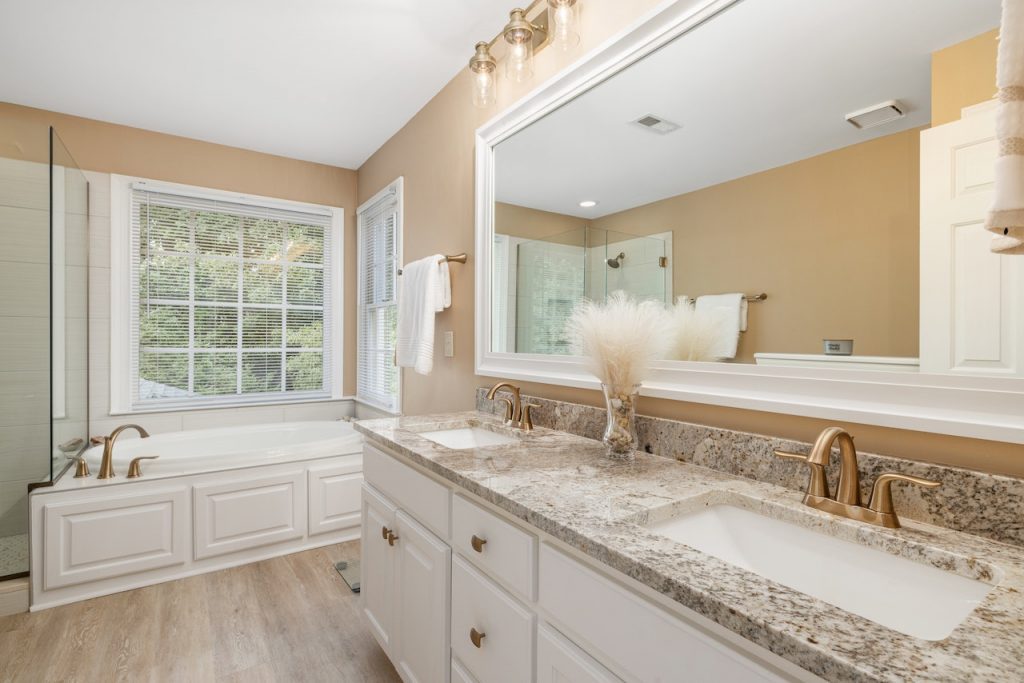 Bathroom Remodeling in Miami
Looking to update your bathroom with a new look and feel? Let our Miami bathroom remodeling contractors help you transform your bathroom into a space that meets your needs and style preferences. NXT Construction contractors are experts in bathroom remodeling, and our goal is to provide top-quality services that exceed your expectations.
At our Miami remodeling contractor company, we believe that every bathroom should be both functional and beautiful. That's why we offer a wide range of bathroom remodeling services to meet the diverse needs of our clients. Whether you want to update your shower, install new tiles, or add a spa-like touch to your bathroom, our team can help you achieve your vision. We also offer specialized bathroom designs such as those for accessibility. 
If you're looking for a bathroom remodel in Miami, our team of experts is here to help. Our bathroom remodelers have the experience, skill, and creativity to bring your vision to life. We understand that every bathroom remodel is unique, so we work closely with our clients to create a customized plan that meets their needs and budget.
Bathroom Remodeling Services
Our bathroom remodeling services in Miami include:
Shower remodeling: From updating the tiles to installing a new showerhead, create a shower that is both functional and stylish.

Vanity remodeling: Whether you want to replace your existing vanity or add a new one, find the perfect solution for your bathroom.

Lighting upgrades: Good lighting can make a major difference in your bathroom. We can help you choose the right lighting fixtures and install them. This will enhance the look and feel of your bathroom.

Plumbing upgrades: If you're tired of leaky faucets or low water pressure, we can help you upgrade your plumbing. Such an upgrade will improve the functionality of your bathroom.

Flooring and tiling: We offer a wide range of flooring and tiling options. These include ceramic tiles to luxury vinyl plank. Upgrades can create the perfect look for your bathroom.

Custom cabinetry and storage solutions: Maximize your bathroom's storage potential with custom-designed cabinets, shelves, and organizers. Our team will work with you to create tailored look great.  We will also optimize your available space, also enhancing the functionality and organization of your bathroom.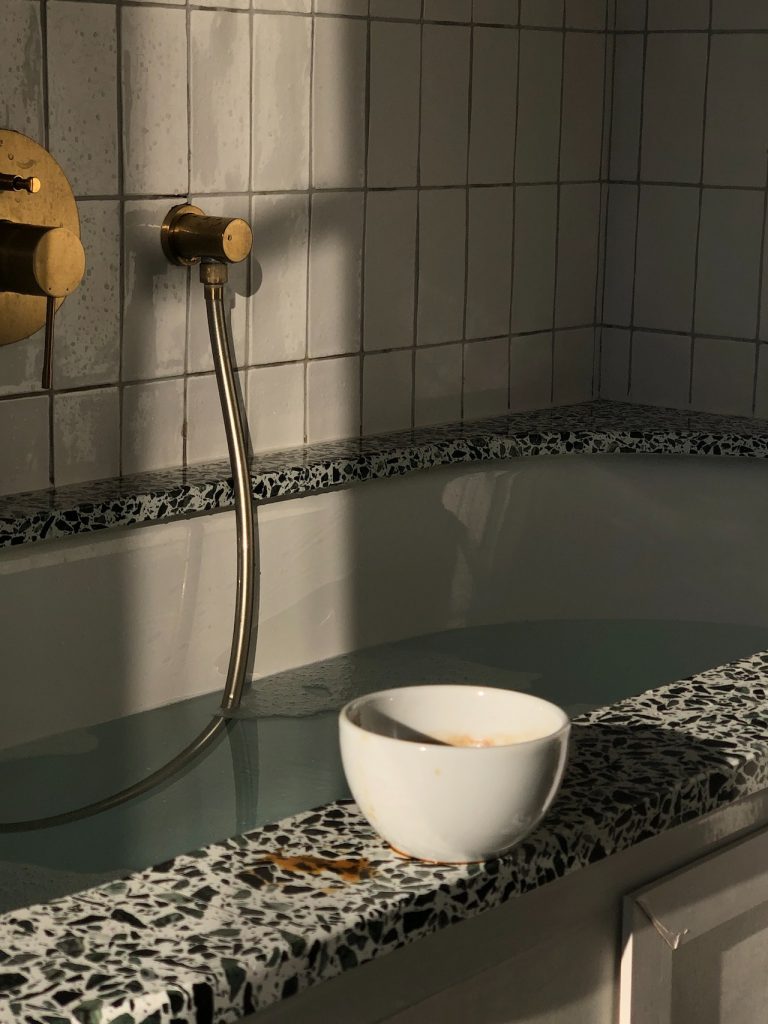 Bathroom Remodelers in Miami
Our team of Miami-based bathroom remodelers at NXT Construction is unwaveringly committed to providing top-notch services that cater to your needs and budget. We source only the finest materials and products to ensure the highest quality results. Moreover, we stand behind our work with a satisfaction guarantee. Our licensed and insured team offers you peace of mind throughout the entire process.
We adhere to rigorous standards and maintain meticulous attention to detail in every project we undertake. Clear and open communication with our clients is paramount for us, making certain that we understand and address their concerns at every stage. Regardless of whether you have a well-defined vision for your bathroom or need guidance in crafting a design concept, our team is ready to assist. We aim to work in close collaboration with you, guaranteeing that your bathroom remodel seamlessly aligns with your expectations.
Our ultimate goal is to create a functional, aesthetically pleasing bathroom space that not only improves your everyday life but also increases the value of your property. Our skilled staff can provide outstanding results quickly and effectively by combining cutting-edge technology and tried-and-true approaches. Trust NXT Construction to turn your bathroom into a haven that reflects your unique sense of taste and design.
Furthermore, our renovation specialists in Miami have a plethora of experience in maximizing the use of available space. We can come up with creative solutions for any layout issues, making sure that your bathroom is well utilized in every available space. NXT Construction is prepared to tackle your project with professionalism and expertise, regardless of its size or complexity.
In addition to providing top-notch services, we take great satisfaction in providing outstanding customer support. Throughout the remodeling process, our welcoming and approachable crew is always available to respond to inquiries and give updates. We think that keeping the lines of communication open is essential to getting the results we want and building enduring connections with our clients.
Why Choose NXT Construction?
Expertise: Our crew of bathroom remodelers has a passion for doing high-quality work and has years of experience in the field. Our knowledgeable specialists ensure that your bathroom makeover is both fashionable and practical by staying current with the newest trends and techniques. You may feel confident knowing that your project is in good hands if you choose NXT Construction. 

Customized solutions: Solutions that are unique to each bathroom remodel: We collaborate extensively with our clients to develop plans that are specific to their demands and financial constraints. Our team works with you to make sure that your vision becomes a reality, from the very beginning of design to the very end of execution. Your bathroom will be customized to meet your unique needs and tastes as a consequence.

Attention to detail: We take pride in our attention to detail and work hard to keep in constant contact with our clients. We guarantee that your bathroom makeover will be executed to the highest standards thanks to our commitment to accuracy and perfection. Also, we make sure to keep you informed every step of the way, which ensures that your expectations are met and that any issues are dealt with right away.

Satisfaction guarantee: We back our work with a satisfaction guarantee so you can relax knowing your bathroom makeover is in capable hands. We are dedicated to providing great customer service and going above and beyond your expectations. If you're not quite pleased with the outcome, we'll make every effort to make it right.

Wide range of services: To satisfy the various demands of our clients, we provide a comprehensive range of bathroom remodeling services. We provide a wide range of services, such as design advice, material selection, demolition, plumbing and electrical work, tile installation, fixture installation, and more. You can be sure that NXT Construction has the knowledge and resources necessary to handle every element of your bathroom makeover if you hire us.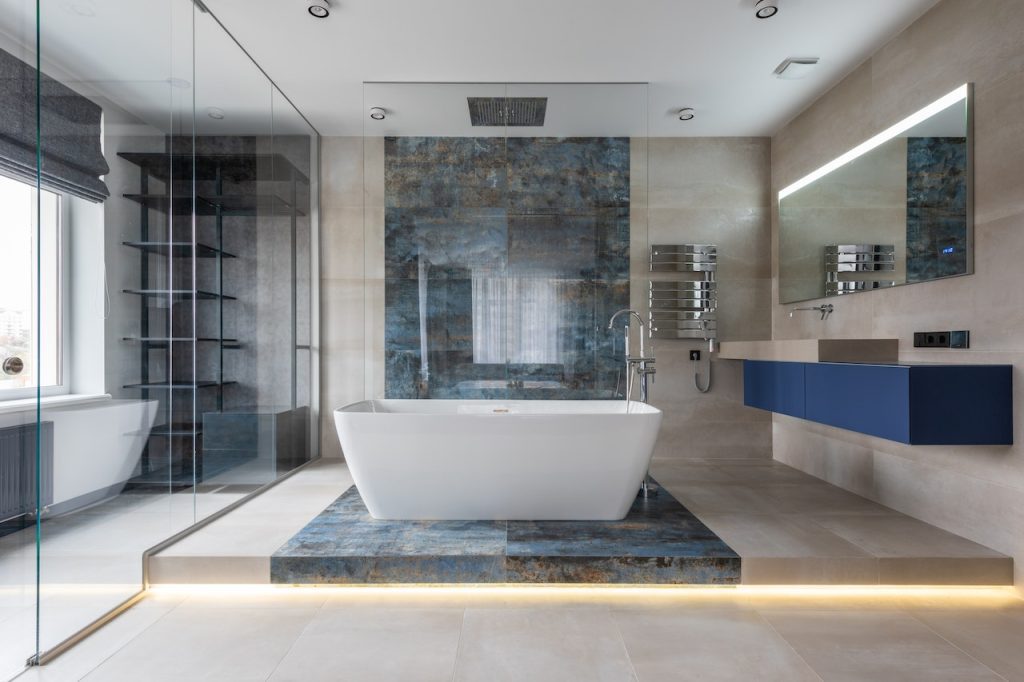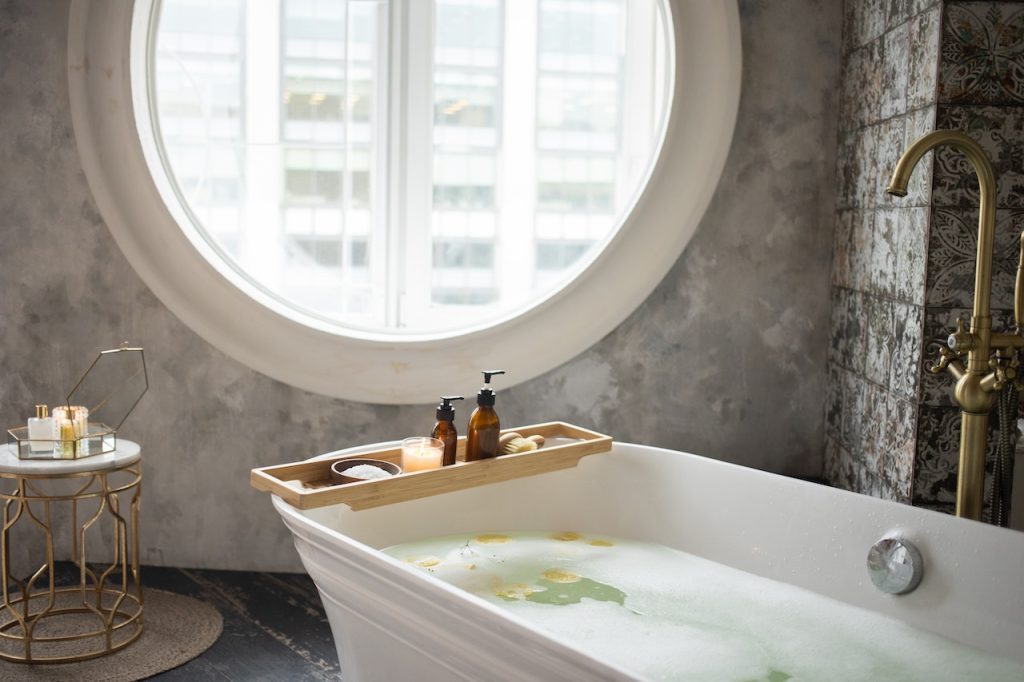 Frequently Asked Questions
Q: What are the benefits of bathroom remodeling?
A: Bathroom remodeling can provide a range of benefits, including increased home value, improved functionality, enhanced aesthetic appeal, and customization. You can create a space that better meets your needs and enhances the overall look. Read more below. 
Q: What are some popular bathroom remodeling trends in Miami?
A: Some popular bathroom remodeling trends in Miami include spa-like features, such as rainfall showerheads and heated floors, and the incorporation of natural elements, such as stone and wood. Other popular trends include the use of neutral colors, sleek and modern design elements, and energy-efficient fixtures. Read more about general trends here.
Q: How much does bathroom remodeling cost in Miami?
A: The cost of bathroom remodeling in Miami can vary depending on the scope of the project, the materials used, and the contractor you choose. On average, bathroom remodeling projects in Miami can cost anywhere from $5,000 to $25,000 or more.
Q: How long does bathroom remodeling take?
A: The length of time a bathroom remodeling project takes can vary depending on the scope of the project. On average, bathroom remodeling projects can take anywhere from several weeks to several months to complete.
Q: How do I choose a bathroom remodeling contractor in Miami?
A: When choosing a bathroom remodeling contractor in Miami, it's important to do your research and select a company with a solid reputation and experience in bathroom remodeling. You should also look for a contractor who is licensed and insured, and who offers a warranty on their work. NXT Construction is an excellent choice. 
Q: What should I consider when planning a bathroom remodeling project?
A: When planning a bathroom remodeling project, it's important to consider your budget, your design preferences, and the functionality of your bathroom. You should also consider the materials you want to use, the timeline for the project, and the contractor you want to hire.
The Benefits of a Bathroom Remodeling Project
A bathroom remodel is an investment in your home that can provide a number of benefits. Whether you're looking to improve the functionality of your bathroom, add value to your home, or simply create a space that you'll love, a bathroom remodel can help you achieve your goals.
Here are just a few of the benefits of a bathroom remodel:
Increased Functionality
A thorough bathroom remodeling offers countless opportunities. Therefore, you can adjust the space to suit your particular requirements. Installing a brand-new, cutting-edge shower or tub with cutting-edge features like hydrotherapy jets, steam showers, or even chromatherapy lighting is an option. You can increase the efficiency of your bathroom by altering its layout to separate areas for distinct activities like grooming, showering, and bathing. Also, updating your bathroom's faucets, sinks, and toilets can increase water efficiency. In the long run, it can save money and water. You may maintain the area clean and clutter-free by adding extra cabinets, shelves, or built-in storage options to the room.
Improved Safety 
The safety of your home might be dramatically improved with a bathroom redesign. Falls can be prevented by installing grab bars, slip-resistant flooring, and walk-in showers or tubs with low thresholds. These upgrades can also increase the use of your bathroom for people of all ages and mobility levels. Visibility can be improved by better lighting, such as task and overhead lighting. All users can thus feel safer in the restroom. To avoid unintentional burns from hot water, you might also think about installing anti-scald devices on faucets and showerheads.
Increased Home Value 
A professionally done bathroom remodel can significantly raise the value of your house. Potential buyers may be drawn in by a bathroom that is chic, elegant, and of superior quality. A bathroom this recently renovated can also set your home apart in a crowded real estate market. When it comes time to sell your house, a renovated bathroom can frequently offer a sizable return on investment (ROI). While looking for a new house, prospective buyers frequently place a high value on bathrooms that are contemporary, useful, and attractive to the eye. So, spending money on an updated bathroom can be a sensible financial move.
Personalization 
The ideal opportunity to individualize your space and represent your distinct style and personality is presented by remodeling your bathroom. There are many different design philosophies available. Whether you're picturing a serene, spa-like refuge, a classic, vintage bathroom, or a sleek, modern area. Choosing materials, hues, and finishes for a refurbishment gives you the chance to express your aesthetic preferences. It produces a unified appearance that enhances the general style of your house. Also, you can add distinctive elements like heated flooring, personalized vanities, or eye-catching fixtures. Your bathroom will be unique after such renovations.
You can read more about the benefits of remodeling your home in our blogpost. 
Get in touch with us right away to schedule a meeting with one of our highly qualified bathroom remodeling experts. We are dedicated to working with you to create a tailored strategy that meets your particular requirements and stays within your spending limit. At NXT Construction, we are committed to making sure that the entire remodeling process is smooth and stress-free from beginning to end.
We have the skills and knowledge required to realize your idea, whether it be a simple refresh or a total bathroom renovation. We offer a wide range of services, from creating unique plans and picking out the ideal fixtures to carrying out faultless installations.
Get in touch with us today via phone or by completing our user-friendly online contact form to jumpstart your bathroom remodeling project in Miami. At NXT Construction, we are eager to help you transform your bathroom into a luxurious and inviting space that you will cherish for years to come.